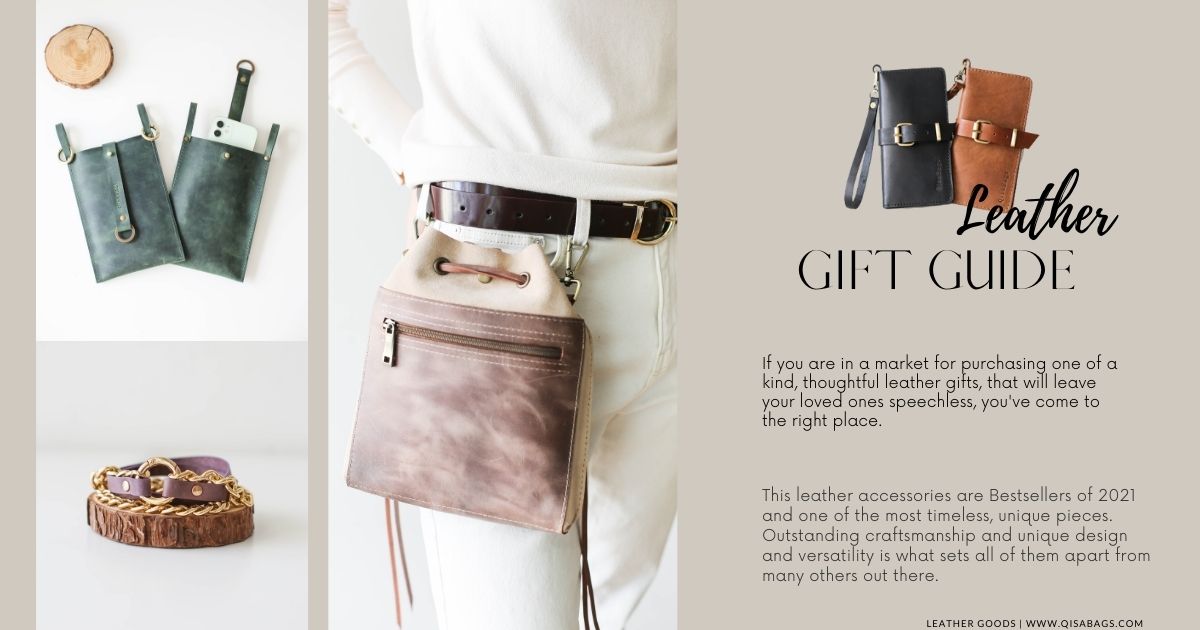 Leather Gift Guide for Women 2022 | Leather Goods
We all know how challenging it is to find the perfect, thoughtful gift for loved ones or even for yourself. This leather accessories are Bestsellers of 2021 and one of the most timeless, unique pieces. Outstanding craftsmanship, unique design and versatility is what sets all of them apart from many others out there. Let's go over some of my favorite picks from Qisabags Leather workshop, that are trending this year.
1. Leather Phone Bags - the ultimate solution to any phone carrying issue.
This little crossbody purse is so functional and beautifully made, perfect for any occasion. Beautiful craftsmanship and quality leather make for a great phone bag. Small and easy to carry everywhere, the perfect solution to carrying a phone while working, biking, running or traveling. The leather is super soft and you can tell even from the pictures, the attention to details is wonderful. This stylish leather phone wallet is just the right size for phone and credit cards. It's also super convertible! Hands free design! This cutest leather crossbody phone bag can easily be transformed into a stylish Hip / Waist bag. Practical and versatile design that you definitely can't purchase in a regular store, so I'm 100% positive the gift recipient will appreciate such an original, unique present. Check out stylish leather phone bags here.
Minimalist Bracelets with chain are trending this year and the chain looks  amazing combined with leather. You can tell just by looking at this stunning design - It's definitely a masterpiece. This Designer leather bracelet looks very expensive and elegant, but it's also affordable to anyone, definitely the best value for money. It's like wearing a piece of art everywhere you go, definitely an eye-catcher! Qisabags offers a wide variety of colors in this particular design, but for me this gorgeous Black leather bracelet is the perfect everyday accessory and goes with absolutely any outfit. The chain is removable in case you'd like it to wear it more casually, but why would you? It's just so gorgeous like this! Definitely a statement piece that you would like to show off everywhere you go and keep people wondering - where can they also buy one?! Definitely one of the best anniversary, Christmas gift ideas for women. Check out designer leather bracelets here.
Just like everything with Qisabags, These leather wallets have the most unique and elegant design. this exceptional wallets make the perfect gift for women, who love carrying large, specious wallets with them. These leather wallets are made from super soft and smooth "Full Grain Leather". Craftsmanship and attention to details is of course, impeccable. And the best part is - all of this beautiful Leather Wallets match these gorgeous Leather Bag designs in color and style. So if you are in a market of purchasing matching leather bag and the wallet, this is a place to start. To sum up, this wallet collection is totally different from any other wallets out there and will be the perfect gift for women, who enjoy carrying bigger, practical leather wallets in style. You can customize it with short leather strap or a chain strap. Check out leather wallets for women here.
This original small leather pouch bags are incredibly soft, beyond anything you could imagine. convertible option makes it easy to be able to wear them in different ways - as Crossbody Bag / Waist Bag and even as stylish Mini Backpack. More Comfortable and functional than any other leather bag that you have ever seen. It's small, but holds deceptively a lot more than bags of equivalent size. It fits everything you might need on a daily bases and It's easy to clip onto pant loops. Aside this being the the most functional leather bag ever made, you can be absolutely sure, no one will have a bag like yours! Make sure to check out this pouch beauties here.
 If you want to treat yourself, Qisabags Leather workshop is definitely the place to do it. Best one of a kind gifts and souvenirs from Georgia, made with biggest love and attention to details. Finally purses with some character! For more interesting Leather Bag and Accessories designs, order online with Free worldwide shipping on their website: www.qisabags.com.